Ecumenical Marian Pilgrimage Trust
The Church's Pilgrimage with Mary
Visiting and staying to pray in the places where the Blessed Virgin Mary is loved and honoured as the Mother of God has been the path to spiritual wisdom and faith in God throughout the life and history of the Church.
It is also the example and experience of Christ himself. When the Holy Family went up to Jerusalem together for the Passover, St Joseph and the Blessed Virgin Mary lost Jesus for a while; but they found him listening to the great teachers in the Temple - God his Father's house - amazing them at his understanding, his questions and answers. When he returned home with Mary and Joseph, St Luke records that
He went down with them and came to Nazareth, and was subject to them, but His mother kept all these things in her heart. And Jesus increased in wisdom and stature, and in favour with God and men.
In the same spirit, the Ecumenical Marian Pilgrimage Trust arranges each year a pilgrimage on which members of many different Churches can come together, in hope of the Unity of Christians in the one Church. Every other year we go to Walsingham for a few days. In alternate years we spend a day at some other place where Mary's prayerful presence has been significant for Christians and 'prayer has been valid' in the past and to the present day.
Like Jesus, we listen to teachers and speakers, hoping to grow in learning and understanding. We also worship and pray at each others' services, looking forward to our full communion one day in the one house of the Father, on earth as it is in heaven. Like Jesus too, we do the Father's will by going to dwell with Mary the Mother of God. We look to her for guidance, and draw on the prayer and wisdom in her heart, the Most Highly Favoured, in order to grow in God's favour ourselves, and for our Churches to grow to be one again in Christ.
19-22 MARCH 2019 PILGRIMAGE to OUR LADY OF WALSINGHAM - Check "Our Pilgrimages" above for more details and booking. Here is the PDF Brochure
Here is the booking form (in PDF) for cheque and e-transfer booking. And here is the same in Word.
Here is the Eventbrite link for booking (with fee).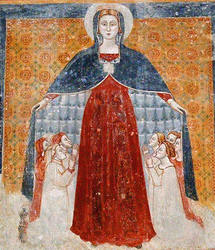 The Protecting Veil - Madonna della Misericordia, Mary Mother of the Church (1380s), Old Cathedral of Santa Maria Maggiore, Assisi